About
Gothenburg Health is a leading rural healthcare organization offering both clinical and hospital care in Nebraska. We are a valuable resource for medical help, healing, education, prevention, and wellness. Since 1969, our passion for quality healthcare has come with a dedication to growing and investing in services and innovation to help our neighbors live their best lives. 
Vision 
Gothenburg Health leverages our Innovative Culture to optimize Health Communities
Mission 
We exist to be healthcare leaders with unparalleled passion, helping people to live their best lives because we care and we can.
Core Values
ICARE: Integrity—Compassion—Accountability—Respect—Excellence
Standards of Behavior
As part of a cultural journey, Gothenburg Health employees have all committed to and signed our standards of behavior document. This further expands upon and defines our Core Values. Click HERE to view this cultural roadmap.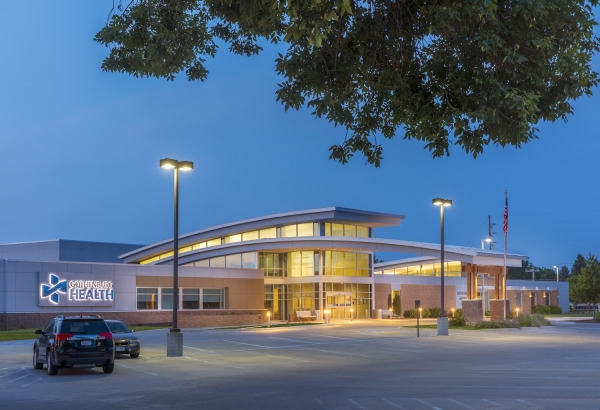 Gothenburg Health is a premier critical access hospital and rural health clinic focused on serving the needs of Gothenburg and the surrounding area. The existing building was built in 1969 with a 3.5 million dollar addition and renovation project completed in 2004 to provide up-to-date medical care in our service area. In 2011 a new, 3.4 million dollar, 17,000 sq ft physician clinic was completed to bring state-of-the-art facilities to Gothenburg with the potential for growth in the medical community. In 2014 Gothenburg Health continued growing and broke ground on a 31 million-dollar renovation and expansion that started with a state-of-the-art surgical expansion. The newest multi-phase construction project, completed in the spring of 2018, includes a surgical suite, brand-new patient wing, prominent main entry, clinical expansion for in-house providers and visiting specialists, advanced imaging suite with in-house MRI, and finally, a medically integrated YMCA. We are proud to not only offer the basics, but to also provide a vast variety of progressive services that have grown with the needs of our community.
The YMCA at Gothenburg Health makes Gothenburg just the 18th community in all of Nebraska to have a YMCA. The YMCA building is directly connected to the hospital and features a 4-lane pool, high-school regulation gymnasium, second-floor walking track, cardio and weightlifting area, plus a large group fitness room. This innovative facility opened in April 2018.
Gothenburg Health is a non-profit healthcare facility governed by a publicly elected board of directors. Gothenburg Health believes strongly in the philosophy of investing in the future; preparing for the future with progressive technology aimed to provide our patient population with the healthcare services they deserve while protecting the future viability of our hospital. We recognize the challenges facing critical access hospitals and want to ensure a strong and healthy long-term future. 
191 Employees
4 Active Physicians
1 Active Advanced Practice Registered Nurse
1 Active Doctor of Nursing Practice
3 Active Physician Assistants
1 Active CRNA
1 Pharmacist, 1 Clinical Pharmacist
20+ Specialty Medical Providers
1 Corporate Wellness Coordinator
1 Chronic Care Management Nurse
1,611 ER Visits
13,903 Clinic Visits
3,774 Specialty Clinic Visits
764Surgeries
9,479 PT/OT/Speech Therapy Visits
59 Deliveries
1,280 CT scans
394 MRIs
423 Mammograms
2,895 X-Rays
89,020 Lab Orders
101,479 Pounds of Laundry Washed
33,347 Meals Served
Data as of September 30, 2023