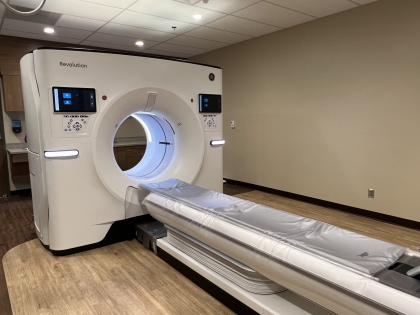 Best Imaging in Central Nebraska at Gothenburg Health
With less exposure to radiation, the new GE Revolution Apex CT scanner provides top of the line imaging and screening to patients quicker and with less risk.
Gothenburg Health will begin scanning patients with the new GE Revolution Apex CT scanner on October 17 and is able to offer Central Nebraska's best level of CT imaging. Additionally, the new CT scanner has a 675 lb. table weight limit which is the highest in the area. Being able to offer the best software and capabilities for imaging packages allows Gothenburg Health to provide patients with the highest quality imaging without the need to travel.
"We can offer state-of-the-art equipment that provides better images, faster scans, better patient care and lower dose radiation here in central Nebraska. Patients can stay local and get the care that they need," Marcy Nichols, Director of Diagnostic Imaging, said.
CT stands for computed tomography and is used for cardiology, neurology, oncology, trauma and pediatric cases. It will allow Gothenburg Health to add a new line of cardiac imaging. The lower dose is safer for children, Nichols said, and can detect a stroke faster. "We no longer need to send patients anywhere else. What we offer is comparable to than anywhere in the state, including UNMC," she said.
According to GE, the Revolution Apex CT scanner is best-in-class in every dimension of the CT imaging chain. With a .23 second rotation time, it allows a cardiac CT to be captured in one beat for any heart rate. The whole chest can be scanned in less than a second.
Another benefit to the new scanner is the ability to do everything bedside. With the new GE APEX CT scanner, technologists can spend more time with the patient. Cameras allow the technologists  to always see the patient even when they step out for the scan.
The reason for the upgrade, Nichols said, was to replace a machine that was 10 years old. When considering all the options, the hospital selected the option that provided the capability for upgrades in the future without the need to install a new machine. 
"Offering uncompromised clinical capabilities, the new Revolution Apex platform helps departments stay ahead of the technology curve with a modular design that offers a seamless path to continuous hardware and software scalability and upgradability that will extend the lives of CT systems into the future," GE said.
For more information about imaging at Gothenburg Health, visit gothenburghealth.org. Ask your primary care provider to consider close to home imaging at Gothenburg Health when ordering important preventive or diagnostic screenings.