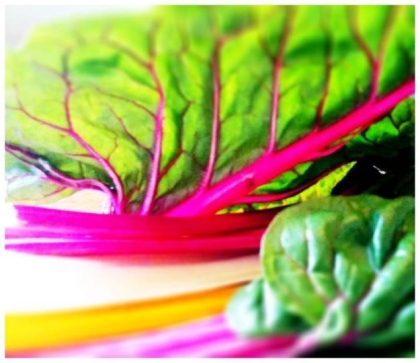 It's Time to Spring in to Garden Action, Part 2
By Mary Lou Block, RDN, LMNT
Of all the things to plant in your garden, it would be greens of some kind.
I am sure you make a practice of planting them, since they are so good for liver detoxification, not to mention being chock-full of nutrients.  So, as you are thumbing through the selection of seed packets, consider three rock star greens that are easy to grow in Nebraska.
Kale belongs to the cabbage or brassica family, while spinach and swiss chard are members of Chenopodiaceae family.  Try looking up the pronunciation of the later family, and enjoy a new conversation starter.
Nutrient Density
Pronunciation and plant classification aside, these plants score high on nutrient density.  The bottom line— vegetables contain many nutrients, known and unknown that contribute to your health.
Check this out.
Vitamin K is necessary for blood clotting and for getting calcium into the bones, not the blood vessels.  All three of the above greens exceed the RDI for Vitamin K, meeting this need by 300-700%. 
Vitamin C is important in the immune system and for the formation of collagen that builds our joints, skin, hair and nails.  Again, all three provide at least 30% of Vitamin C RDI. Kale hits the mark at 100%.
They are all high in disease fighting antioxidants.
Spinach contains a decent amount of folate that helps in red blood cell maturation and in preventing birth defects such as spina bifida.  It provides 50% and 30% of RDI needs for adults and for pregnant women respectively.
Expect to meet your Beta-carotene (the pre-cursor of Vitamin A) needs with any one of these.  The essential Beta-carotene helps with a host of body functions, including the immune system and skin health.
Kale contributes significantly to calcium needs. One serving of Kale provides 20% of the RDI, and provides Vitamin K with it to make sure calcium is escorted to your bones, not your blood vessels. 
We haven't even begun talking about polyphenols, vitamin cofactors, soluble fiber, and the like.  These nutrients contribute to health, but are often overlooked.  In fact, much of their use and benefit is still being discovered.  
Offer these guys a salt massage
Remove the thick stems of kale for a milder flavor.  Tear or slice the leaves of kale and swiss chard before massaging them with olive oil and pink salt.  How about that, a vegetable spa?  The massage tenderizes the leaves and reduces bitterness.
Sauté any of these with sliced radishes, garlic and olive oil.  Don't forget pink salt and a splash of vinaigrette for a flare.
Nebraska can't decide on a season right now
Don't let the possible cold temperatures scare you away from these greens. They all tolerate temperatures in the 20's.  So I say let's get going on early gardening with these friends.
Don't know what to do with them?
Here are some ideas to get you started, and when your garden supply is still lacking, jog on down to the grocery store and whet your appetite there!  Happy gardening and nutrient harvesting!
You can find me at both Gothenburg Health and in private practice.  Email me to find out if real food nutrition might help you with your health journey. 
Email me at mblock@gothenburghealth.org.