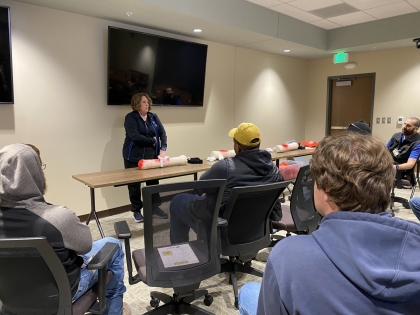 Offering Internal Training Helps Staff to Be Healthcare Leaders
Internal trainers at a Critical Access Hospital are an invaluable asset. It not only ensures a higher level of quality care, but also saves time and money when providing nurses with essential continuing education.
Gothenburg Health has ten internal trainers in eight different clinical certifications. These staff members contribute to a skilled team of healthcare leaders.
Meghan Zogg is a Neonatal Resuscitation Program (NRP) instructor. She said, "I truly believe we have a great thing here at Gothenburg Health. Having the opportunity to take and teach all our own continuing education units (CEU) in-house is amazing. We have the capability to know each other well and take time with each student individually to help them in areas they are struggling with. Being able to share my knowledge and experience to help fellow nurses and providers ensures that we are well-equipped to provide top-quality care to our patients."
The in-house training is provided for the following certifications: Cardiopulmonary Resuscitation (CPR), Pediatric Advanced Life Support (PALS), Basic Life Support (BLS), Advanced Life Support (ALS), Advanced Life Support in Obstetrics (ALSO), Stop the Bleed, Trauma Nurse Care Course (TNCC) and NRP. The CPR trainers include Alisa Crown, Rachel May, Merrie Quigley, Trisha Stout, Patricia Paxton, and Denise Hoeft. Paxton is also an ACLS instructor. Phillip Miller is a PALS instructor.  Zogg and Maria Araujo are both NRP instructors. Araujo also instructs in TNCC. Kayla Knauss is the ALSO instructor. And, Hoeft is an instructor for all of the certifications.
"Having this degree of internal trainers is unheard of in a Critical Access Hospital. We don't have to secure this education elsewhere, and it positions us to have an extremely skilled clinical team in-house," Tinna Therrien, Chief Operating Officer, said.
å
Araujo said she had worked in an Emergency Department prior to coming to Gothenburg Health. When she was asked if she would consider teaching, she said she felt like it was a good fit with all her experience. However, newborn babies were not a population that she had dealt with previously. "Since I was still uneasy taking care of newborn babies, I decided the best way to get more comfortable would be to teach the class. Instructors must take more time to know the information inside and out to be able to teach the material," she said.
Zogg said, "I chose to become an instructor/trainer because I am passionate about helping others learn and grow. Sharing my expertise and experience with others is incredibly rewarding, and I love seeing my fellow nurses and healthcare providers succeed and thrive in their respective fields."
One of the best benefits to offering certification classes internally at Gothenburg Health, Araujo said, is that it allows us to offer the classes more often to our nurses and we are a great resource of information when needed.