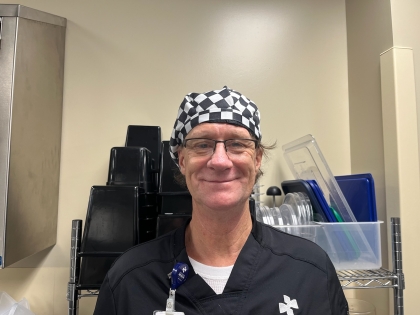 One man's story of celebrating the Great American Smoke Out smoke-free
"It's hard to quit smoking when there is no reason. When it becomes dangerous, then it becomes easy," Porter Brown said.
The Great American Smoke Out is celebrated on Thursday, Nov. 16. The goal is to encourage a smoke-free and vaping-free life. Brown will celebrate this year by being smoke free since January 16. 
After smoking for over 40 years, Brown began experiencing symptoms of wheezing, shortness of breath, and coughing up stuff. It scared him, so he went to see the doctor who checked his gallbladder, heart, and lungs for COPD. After doing a stress test, the doctor determined nothing to be wrong with his heart. "I said in my mind, if I keep going, I'll probably die. I haven't picked up a cigarette since," he said.
Once a smoker realizes he or she can quit for 24 hours, they realize that they can quit permanently, according to the CDC. 
Brown said that he first started smoking as a teenager in 1980. He said he wanted to be cool like everyone else. While he smoked a pack or less a day, he most often smoked when he was cold, drinking or stressed. He admitted that he had tried to stop previously but wasn't successful.
Originally from Portland, Brown has lived in Gothenburg the past 6 years. With five kids that he calls his own, he worries about the effects that secondhand smoke had on them. It's one of the reasons he doesn't pick the habit back up. He also said that when he smells it on others, he gets sick to his stomach. "I don't really want it anymore. Now, when I'm stressed, I sometimes run," he said.
The American Cancer Society (ACS) has sponsored the Great American Smoke Out since 1977 to encourage not only individuals to stop using tobacco, but also businesses to be tobacco free. According to the CDC, smoking remains the leading preventable cause of disease and death in the United States. "It's more than a reminder of the dangers smoking poses to your health. It's a call to act," the CDC website said.
Gothenburg Health offers smoking cessation classes two times a year. For more information, contact Shay Holbrook at 308-537-1009