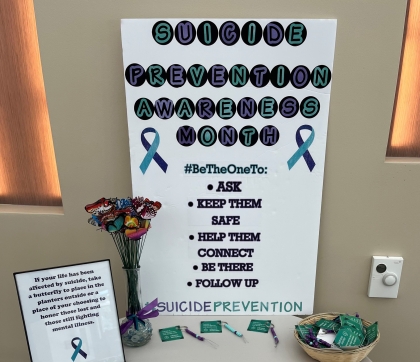 Suicide Prevention Awareness is Essential
Content provided by Senior Life Solutions at Gothenburg Health and with the assistance of their parent company Psychiatric Medical Care (PMC)
Gothenburg Health's Senior Life Solutions is commemorating Suicide Prevention Awareness during the month of September. Specifically during this week, people are asked to wear teal and participate in at least an 11 minute walk on Friday, September 9 to raise awareness. Statistically, someone dies from suicide every 11 minutes.
Senior Life Solutions offers a program that is designed to meet the unique needs of individuals typically 65 and older, experiencing depression or anxiety related to life changes often associated with aging. Services include Group Therapy and Individual Therapy. Staff also work with the primary care provider to provide medication management and after-care planning.
The staff at Senior Life Solutions would like to share five action steps to BeThe1To.
Step 1-BeThe1To Ask. If you think someone one of any age might be considering suicide, ask directly, "Are you thinking about killing yourself?"
Step 2- BeThe1To Be There. Take the next step and listen to the person's reason for feeling hopeless and in pain. Listen without judgement and with compassion and empathy.
Step 3- BeThe1To Keep Them Safe. If the person indicates that they are thinking about suicide, separate him/her from anything that can be used to cause harm.
Step 4- BeThe1To Help Them Connect. Help the individual connect to a support system including family, friends, clergy, coaches, co-workers, therapists and programs like Senior Life Solutions.
Step 5- BeThe1To Follow Up. Don't forget to follow up and check on the individual. It can make all the difference.
If you or someone you know is considering suicide in an emergency situation, call 911 immediately. If you or someone you know is in crisis or are experiencing difficult or suicidal thoughts, call or text the Suicide and Crisis Lifeline at 988. To contact Senior Life Solutions, call 308-537-1030.