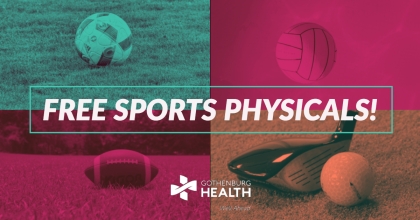 FREE Sports & Camp Physicals
Locations & Dates:
Gothenburg Clinic: Thursday, July 12 from 3:30 PM - 6:00 PM
Brady Clinic: Tuesday, July 17 from 1:00 PM - 5:00 PM
Gothenburg Clinic:  Tuesday, July 24 from 3:30 PM - 6:00 PM
Places:
Gothenburg Clinic
918 20th St
Gothenburg, NE 69138
Brady Clinic
114 N Main St
Brady, NE 69123
Other Info:
NOTE: Kindergarten & 7th grade physicals are not offered during this event. Please call (308) 537-4066 to make an appointment for these.

No appointment needed, just walk-in!

Gothenburg Public Schools or NSAA pre-participation exam forms will be provided; please bring any camp or other school physical forms along if needed.

A parent/guardian must accompany any individual under the age of 19 to receive their physical exam. Otherwise, a parent/guardian will need to complete and sign this Demographic Sheet and Consent for Treatment. These documents must be completed and signed by a parent or guardian in order for your child to receive his or her physical exam.
Please call 308-537-4066 for more information.