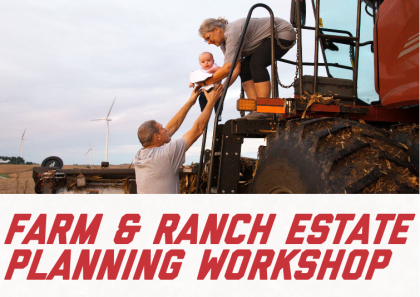 Gothenburg Health is Hosting a Farm and Ranch Estate Planning Workshop
It can be overwhelming to know where to start with estate planning for a farm and ranch. However, Gothenburg Health is offering a free workshop to help provide the tools you need.
Nebraska Extension and the University of Nebraska-Lincoln's Center for Agricultural Profitability will partner with Gothenburg Health to host a transition and estate planning workshop for farmers and ranchers in Gothenburg from 2 p.m. to 5 p.m. on Thursday, Nov. 16 in the Cottonwood Conference Room at Gothenburg Health. Participants are asked to enter through the YMCA entrance. 
Nebraska Extension Educator, Jessica Groskopf, will offer tools and strategies to effectively plan, start, and complete estate plans, offer background on common mistakes during the process, and highlight essential considerations for creating and carrying out estate and succession plans. 
Local representatives from banks, financial advisors, and tax consultants will also present during the workshop to offer tips and answer questions.
"The common mistake is that most know that they need an estate plan, but never get around to putting a plan into a legal document," Groskopf said. "Over several years, at the end of the workshop, the most common comment is that the participants wished that they had started learning the steps to start and complete a plan sooner." 
The workshop is free to attend, but registration is required by calling Alisa Crown at 308-537-4075.