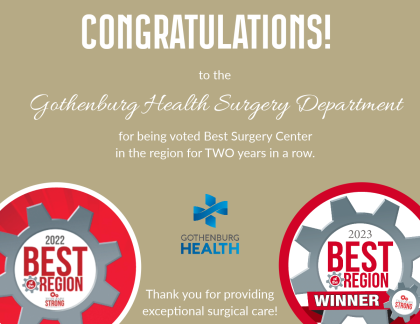 Surgery Department named Best of the Region for 2nd year
Gothenburg Health's Surgery department was voted Best Surgical Center of the Region for a second year in a row. The "Best Of" contest is conducted by the North Platte Telegraph and voted on by the people in the region. Being voted Best of the Region in 2022 and 2023 is an indication of the quality surgical care being provided at Gothenburg Health.
The state-of-the-art surgical wing is currently being renovated to further provide the best surgical care possible. Working with local providers and over 20 specialists, the Surgery department conducts emergency and elective surgical procedures including general surgery, gynecological and obstetrical. Whether a patient needs a cesarean birth, an appendectomy, a colonoscopy, a cataract surgery, or a gallbladder removed, the Surgery department provides quality, individualized care.
Gothenburg Health was also voted Favorite Hospital, and Dr. Kayla Knauss was voted Favorite OB/Obstetrical Provider. These recognitions affirm the mission of Gothenburg Health, which is to be healthcare leaders with unparalleled passion, helping people to live their best lives because they care and they can.